Madagascar- Antananarivo 100 MWAC Solar PV Project Rights
India's Best Solar Panel Systems
The Project "MDG" is a professionally designed 100 MWAC utility-scale Solar PV Plant ("Project"), located in the Madagascar in eastern Africa, Fast-growing and energy-hungry country. The Project stage is Ready to Build PPA Signed with SPV formation under "Sungevity SARL, the technical feasibility has already been successfully conducted by a Solar consultant and documented in a detailed project report. The land Will cover an area of approx. 400 ha, already secured for 40 years It will be constructed with Direction Générale en charge des Projects Présidentiels, Antananarivo, which has many industries with access to capable feed-in points for the entire generated power. The Developer has negotiated with the local state government the opportunity To build this project and has signed a power purchase agreement ("PPA") The State Power Distribution Company is the sole off taker of the Project.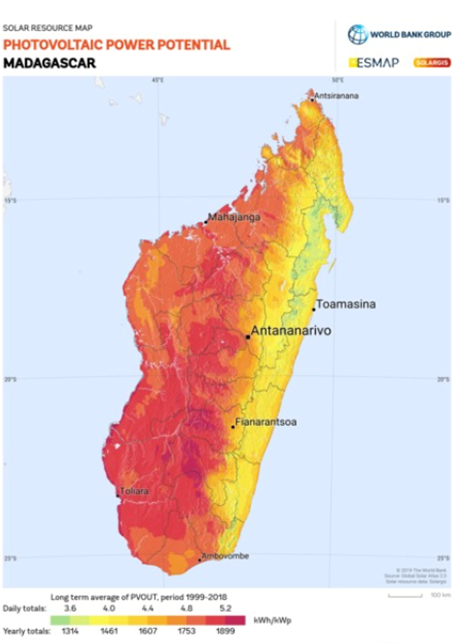 The project has completed almost all development steps, such as Master Plan Approval, Feasibility Study/DPR, Land-lease Agreement and PPA The development is dedicated to achieving Lowest CAPEX and operational costs and scheduled COD is 12-18 month from Date of signing the PPA. The developer may keep a minority stake in the SPV.
Energy Market Madagascar
Madagascar is one of the growing economies with continuously high GDP growth at 4-5% and expected energy demand growth above 5% p.a. until 2030. To keep up, Madagascar becomes the first mission globally to become clean and green as it transitioned from fossil fuels to solar with a member of the International Solar Alliance
The development of renewable energy and the success of the National Solar Mission is of high importance to the Government opening up investment Opportunity.
Single axis tracked yield exp.: >1.749 kWh/kWp

Advanced development stage: RTB March 2021

Annual Energy Yield: 174350 MWH/Year

Target After-Tax Equity IRR: >28% (at 30% equity, 70% debt)
Project Status and Timeline